Do you know how to adjust the soil pH of your garden. Most garden soils have a pH between 5.5 and 8.0. This number helps you determine when and how to adjust your garden soil's pH level. If the pH level is below 6, the soil ls too acidic, and you need to add ground lime. If the measurement is above 7.5, the soil is too alkaline for most vegetables, and you need to add soil sulfur.
In general, soils in climates with high rainfall -such as east of the Mississippi River (particularly east of the Appalachian Mountains) or in the Pacific Northwest -tend to be acidic. West of the Mississippi, where less rainfall occurs, soils are more alkaline.
How much lime or sulfur do you need?
AU Cooperative Extension Service offices, any soil lab, have charts showing how much lime or sulfur to add to correct a pH imbalance. The charts tell you how many pounds of material to add per 1,000 square feet, so you need to measure the size of your vegetable garden first. Then use these tables to figure out how much lime or sulfur you need to add to your soil.
Pounds of Lime Needed to Raise pH (per 1,000 Square Feet)
# of pounds for Sandy Soil
Pounds of Sulfur Needed to lower pH (per 1,000 Square Feet)
# of pounds for Sandy Soil
How to apply lime or sulfur?
The best way to apply sulfur and lime to your soil is to use a drop spreader (the same machine you may use to apply lawn fertilizer). This simple machine doesn't cost very much, and it helps you spread the material more evenly.
Note: We offer free loaner spreaders as well as spreaders for sale!
Note: We also have a simple PH tester for sale or loan!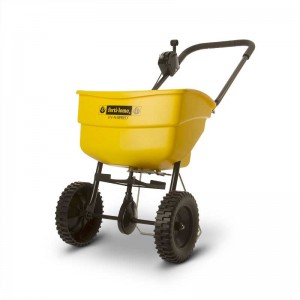 With the information above you should be able to figure out, and adjust your gardens pH balance.
Good luck gardening!